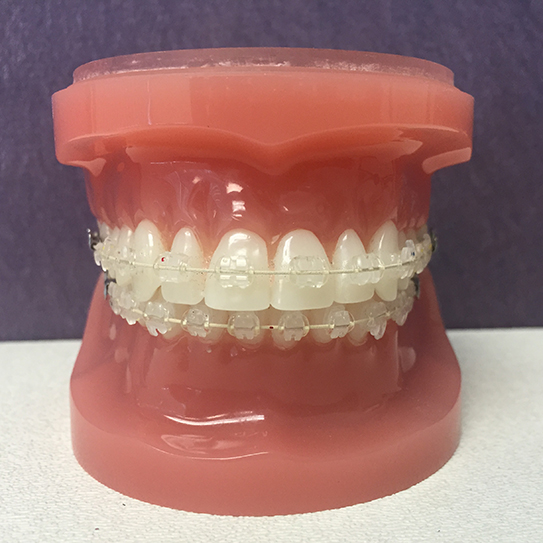 CLEAR BRACES LOOK GREAT. So why don't real orthodontists love clear braces for fast and efficient orthodontic treatment?
Clear ceramic braces have been available to orthodontists since the 1980s. Gorgeous to look at, the surface of clear ceramic braces are far from ideal for fast and efficient orthodontic treatment.
Clear Braces Are Made From Different Materials
Made of polycrystalline ceramics, clear braces have a rougher surface than steel brackets. This rough surface of clear braces can nick and penetrate the wire and prevent teeth from sliding as quickly as possible during orthodontic tooth movement. In this way, clear braces slow down orthodontic treatment by increasing resistance and increasing the wire bracket friction.
Clear braces made of single crystal are quite smooth but can also damage wires with increased resistance to orthodontic tooth movement.
Clear braces with a metal slot can be used to overcome the problems created by increased friction against the wire caused by the ceramic surface.
Clear braces of composite plastic are tooth colored and nonallergenic, and in theory, should have surface properties not as troublesome as ceramic braces. Plastic braces are difficult to make, so their cost is more expensive than metal braces which are faster and more treatment efficient.
Clear Braces Offer No Real Treatment Advantage Over Metal Braces
To a real orthodontists, other than their transparent appearance and patient preference, there is no treatment advantage to using clear braces over metal braces. Clear braces are not new or "high tech." The choice of clear braces is strictly the personal choice of the patient.
It is important for the general public to understand that clear braces offer no orthodontic treatment advantage. All real orthodontists offer clear braces and have offered clear braces since the 1980s. Many adult orthodontic patients choose metal braces over clear braces for their treatment advantages.
Ask Your Orthodontist Which Treatment Is Right For You
Ask your orthodontist about the surface qualities of braces and the advantages of metal braces versus clear braces. To find an orthodontist near you, visit the American Association of Orthodontists at www.mylifemysmile.org.
Whether you choose metal or clear braces, your orthodontist will give you a beautiful, functional, healthy, and stable smile.
Orthodontist Ann Marie Gorczyca, DMD, MPH, MS, Gorczca Orthodontics, Antioch, California www.clubbraces.com (925) 757-9000.
Leave a Reply