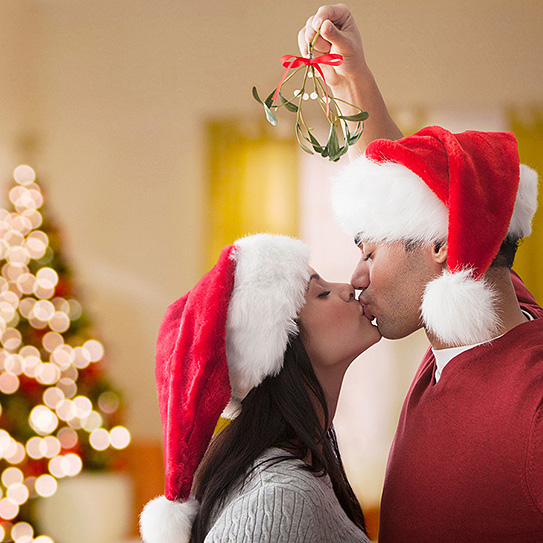 THE CHRISTMAS HOLIDAY SEASON brings about a most important need for excellent dental hygiene, brushing and flossing, and dental health: kissing under the mistletoe! You may be wondering how this holiday oral hygiene tradition got started.
Ancient Mistletoe Beliefs
Dating back to ancient times, mistletoe has been revered for its perceived health properties. The ancient Greeks believed mistletoe cured ailments while the Romans used mistletoe as a balm against ulcers.
The Celtic Druids admired mistletoe's ability to blossom even during the frozen winter. In the 1st century, Druids considered mistletoe a symbol of vivacity and administered mistletoe berries to restore fertility.
However, it was Frigg from Norse mythology who first declared mistletoe a symbol of love. Frigg vowed to plant a kiss on all who deigned to pass beneath the mistletoe. This tradition of mistletoe kissing made mistletoe a symbol of vitality and fertility. This tradition continued to live on through the middle ages.
The Tradition As We Know It
In the 18th Century, mistletoe became incorporated into Christmas celebrations. The tradition of mistletoe as a Christmas kissing station became popular among servants in England. From there, the popularity of this Christmas decoration spread among people throughout the world. The tradition of mistletoe kissing allows a man to steal a kiss from a woman standing under the mistletoe. Refusing this kiss is a sign of bad luck.
Today in Northern California, Contra Costa County, and Mt. Diablo State Park, mistletoe grows as a hemiparasitic plant on the boughs of the barren winter oaks. It appears as giant green balls, like a giant Christmas tree ornament growing on the giant California Oaks, and waits there as a beckon of eternal fertility for special visitors on an afternoon stroll. The mistletoe can be picked and brought home for a special holiday celebration.
Have A Merry Christmas!
This Christmas holiday season, brush and floss your teeth twice a day, maintain excellent oral hygiene and dental health, smile big, and if your heart gives you the opportunity, take a moment to kiss someone special under the mistletoe.
We wish you good luck under the mistletoe this holiday season. Thank you for your support of Gorczyca Orthodontics, 5201 Deer Valley Road, in Antioch, California now and through the year. From all of us at Gorczyca Orthodontics, Merry Christmas and Happy New Year.