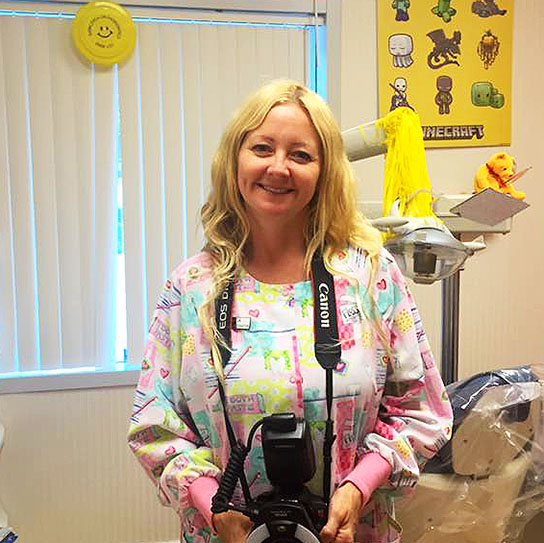 AS YOU KNOW, HERE at Gorczyca Orthodontics, we're honored to have you as our valued patient! Our goal is ALWAYS remarkable, one-to-one patient care... Thanks to our amazing team members!
Gorczyca Orthodontics Is Growing!
Gorczyca Orthodontics is thrilled to welcome our newest Registered Dental Assistant, Dana.
A Little About Dana, In Her Own Words
I am originally from Victoria British Columbia, Canada. I came to California when I was 27 years old and went to school at Huntington Dental College in Huntington Beach, California. I got married and started working in my first dental office where I met my husband who was a patient.
I left that office to and started working as an orthodontic assistant in the office of orthodontist Dr. Gary Devian in Yorba Linda, California. I just loved it! After that, I always wanted to be an orthodontic assistant.
We recently put Dana in the hot seat and asked her some questions so you can get to know her better...
When you're not here working, what are your favorite things to do?
On my day off, we like to go boating and camping. I live in Discovery Bay with my husband and son who will soon be 10. We like to wake board and ride dirt bikes. We live on the water so we get out on the water almost every day in the summer time.
When you first started working here, what were your first impressions of the office and the team? Have those impressions changed?
I think everyone at Gorczyca Orthodontics is very nice, helpful, and welcoming. We have a very happy team and working with the orthodontic patients is a lot of fun.
What's your favorite part of your job?
I love seeing the patients start treatment from the beginning of orthodontics and make the step by step progress which truly tranforms their life. Not only are the teeth straight but their overall personally shows more confidence an happiness. It is a wonderful feeling to be a part of this and be able to give this gift to our patients.
I will be doing the initial orthodontic records and final orthodontic records at Gorczyca Orthodontics. I will be working Tuesday through Thursday as well as Fridays. After the examination with Dr. Gorczyca, this will be the first step toward starting your orthodontic treatment. If you need to schedule your orthodontic records, please give me a call!
We're So Happy To Have Dana As A Member Of Our Team!
At Gorczyca Orthodontics we have three goals:
Clinical excellence,
Outstanding customer service,
and a Great patient experience.
Thank you Dana for being part of our Gorczyca Orthodontics team!
As one of our valued patients, if you have your own question for Dana, please ask in the comments section below! Also, you can always send us a message on Facebook anytime.
We look forward to seeing you at your next visit! Thanks for the trust you place in our practice.