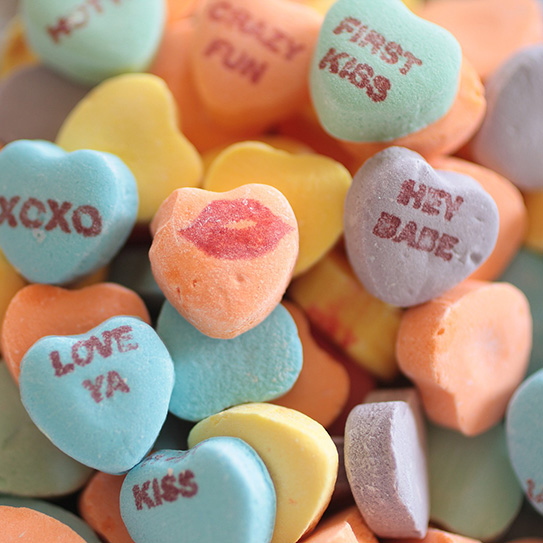 AS VALENTINE'S DAY approaches, we are once again surrounded by one of America's most popular candies, the conversation heart.
A Legacy Of Candy Messages
First developed by a Boston apothecary in 1847, Oliver Chase joined the lozenge craze spreading through Boston. Innovating from mortar and pestle, kneading, rolling and cutting to make lozenges, Chase invented the first candy machine. Inspired by the Valentine card market in Boston, Oliver's brother Daniel started putting food dye letters on to the lozenges in 1866. It is legend that the Chase brothers' wafers with love greetings were sent to soldiers during the Civil War.
In 1902 the heart shape lozenge machine was invented and the CRAZY4U conversation heart phenomenon was born. Daniel Chase went on to found the New England Confectionery Company (NECCO) which today makes 100,000 pounds of the hearts year round, each day.
Through the years, conversation heart sayings have reflected how culture has changed. Sayings range from KISS ME, HUG ME, BE MINE, and CUTIE PIE to popular sayings likek TE AMO and GIRL POWER. For the digital age, we even have TEXT ME and TWEET ME messages.
The Wrong Treat For Braces
Conversation hearts might make great Valentines, but they are too hard to eat with braces. Orthodontist Dr. Ann Marie Gorcyzca says "Conversation hearts are not your braces' BFF!"
At Gorczyca Orthodontics, we would LOVE YOU to show your braces some SWEET LOVE by not eating conversation hearts. This will make Valentine's Day for YOU+ME the BEST DAY ever. Give out your conservation hearts and be TOO CUTE, TOO COOL, and find TRUE LOVE.
Love From Gorczyca Orthodontics
We XOXO braces at Gorczyca Orthodontics in Antioch, California and want your Valentine's Day to be extra special. We hope your conversation heart Valentine's Day dreams come true. Find us at www.clubbraces.com or call us at 925-757-9000 for a free orthodontic exam.
YOU ROCK for not eating conversation hearts with braces. Spread the conversation heart love and see you soon at Gorczyca Orthodontics.
Your SMILE is our inspiration.