February 23rd, 2017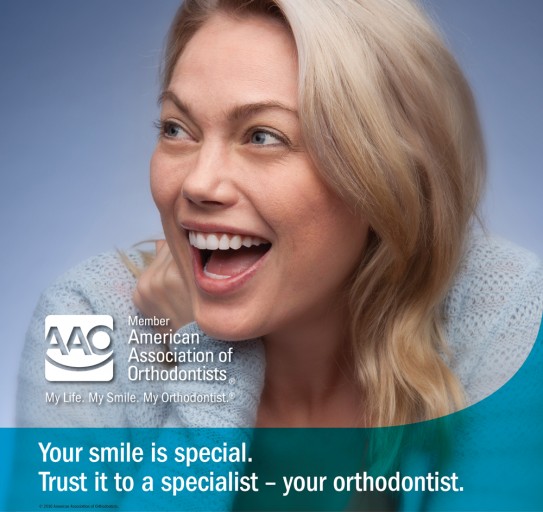 YOUR SMILE IS AN expression of who you are. It is that special thing that greets a friend, celebrates all of life's joyful moments, and makes someone's day that much brighter. We know how important your smile is to you and those around you. That's why Dr. Gorczyca is a member of the American Association of Orthodontists (AAO), so we can always provide the best and most up-to-date care to our patients!
What Is The AAO?
All orthodontists are dentists, but not all dentists are orthodontists. Orthodontists go to four years of dental school, and beyond that, two to three more years of a full-time graduate school residency program to specialize in orthodontics. Orthodontists are experts in straightening and aligning teeth to create healthy, beautiful smiles for all of our patients.
The American Association of Orthodontists is the world's oldest and largest dental specialty organization. Only the orthodontists that have received a rigorous education at an accredited orthodontics specialty program can be granted membership in the AAO. Because Dr. Gorczyca is an AAO member, you can trust that all orthodontic treatment performed at our practice meets the highest standards of quality, ethics and aesthetics.
What Does Being An AAO Member Mean For Our Patients?
Providing orthodontic treatment is not just straightening teeth. Excellent and comprehensive orthodontic treatment requires a scientific and artistic working knowledge of functional occlusion (bite function), TMJ form and function, growth and development of the jaws and teeth, material science of the appliances used, and the biology of tooth movement bio-mechanics. It's not just gluing braces onto teeth. And, it can't be learned in a weekend course. This is why it is so important to have your orthodontic treatment done by an educated orthodontist who is a member of the American Association of Orthodontists.
Harm can be done by moving teeth too fast, moving teeth to an unstable position, or not maintaining teeth in a stable position for a long enough time prior to braces removal. This is especially true when teeth are moved in the direction of coming farther into the mouth (extrusion). Time needs to be given to allow the bone to remodel around the new tooth position. Full stability around teeth moved by orthodontics takes one year to reach it's maximum strength. This is why wearing your retainer when braces are removed is so important. Your orthodontist will monitor your teeth during this retention period.
Only graduates of orthodontic residency programs can be members of the American Association of Orthodontists. Only orthodontists can call themselves orthodontists. It is important for the public be aware that orthodontists receive extensive training and continuing educational training throughout their careers in order to be able to provide the best orthodontic care possible to their patients.
We Go The Extra Mile For Our Patients
Our number one priority is our patients' safety and satisfaction. We're always willing to go the extra mile to ensure that we are providing the best care to every single person who comes into our office!
As an AAO member, Dr. Gorczyca is constantly improving her skills and learning how to better serve you. Why? Because you deserve the smile of your dreams, and we're here to make that dream a reality!
To find an orthodontists near you, visit the American Association of Orthodontists at www.mylifemysmile.org or call Gorczyca Orthodontics at (925)757-9000 in Antioch, California.
When it comes to braces, aligners, and retainers, an AAO orthodontist is the smart choice.
The content on this blog is not intended to be a substitute for professional medical advice, diagnosis, or treatment. Always seek the advice of qualified health providers with questions you may have regarding medical conditions.