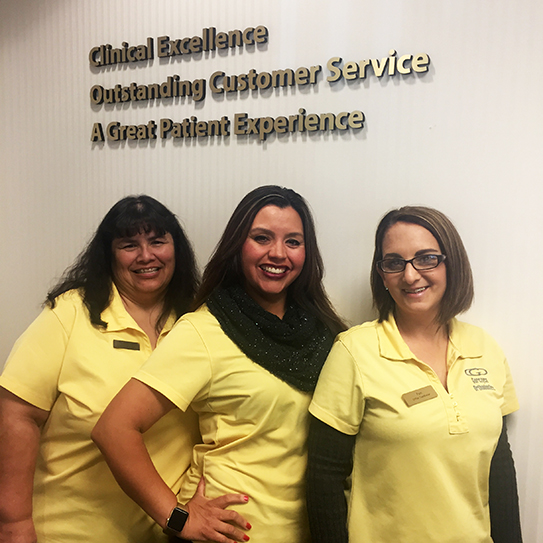 THEY ANSWER THE PHONE ON the first ring with a smile. They are kind and courteous, committed and empathic. They are always there to serve you, our valued patient, make your appointments, and tell you "We're looking forward to seeing you again soon." These are the administrative professionals who keep the world, our schedules, and Gorczyca Orthodontics moving forward.
So today we on Administrative Professionals Day, we stop and take a moment to say "Thank You" to those great people who answer the phone when you need help most.
We're Grateful For Our Administrative Professionals
At Gorczyca Orthodontics we'd like to take a moment to thank Receptionist Roberta, Patient Coordinator Pam, and Treatment Coordinator Veronica for keeping the Gorczyca Orthodontics phone lines going. We want them to know, we think they are terrific!
We appreciate our administrative professionals' commitment to striving to be the very best in patient service and care. Recently, Roberta, Pam, and Veronica completed additional professional development with Front Office Rocks with Laura Hatch. Their dedication and commitment to serving our customers at Gorczyca Orthodontics, our valued patients, is appreciated.
From Pam, welcoming our new patients, to Veronica, conducting the new patient exam and experience, to Roberta scheduling treatment appointments, we want each of our customer service leaders to know we notice what they do, appreciate their service, and give them thanks and gratitude.
So,
Thanks for all the time you spare,
Thanks for showing that you care.
Thanks for being kind and smart.
Thanks for having tons of heart.
Thanks for everything you do-
Thanks so much for being you!
Happy Administrative Professionals Day from all of us at Gorczyca Orthodontics!
If you would like to speak to any of these fine ladies and find out more about orthodontics, straight teeth, and Gorczyca Orthodontics, call us at 925-757-9000. Visit us at www.clubbraces.com.