May 11th, 2018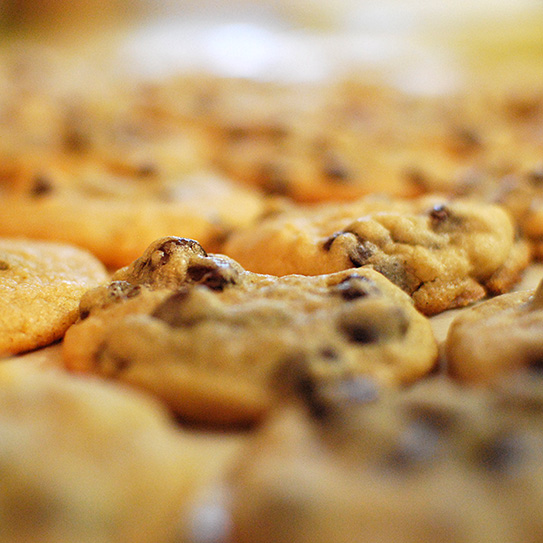 WHEN I WAS A girl in Massachusetts, halfway between New Bedford and Boston, my family and I would often drive by The Toll House, a restaurant in Whitman, Mass. The original Toll House was built in 1709. Here passersby could stop for home cooked meals. In this house had lived Mrs. Ruth Wakefield, dietitian and food lecturer who in 1930, accidentally invented the Toll House Cookie.
The First Chocolate Chip Cookie: A Delicious Accident
One day, Mrs. Wakefield was cooking Butter Drop Do Cookies, a favorite New England recipe dating back to Colonial days. She ran out of baker's chocolate for the recipe, so she decided to use a cut up bar of semi-sweet chocolate instead. She expected the semi sweet chocolate bits to melt. But they didn't. Instead, she had a cookie with lumpy chocolate bits and viola! Chocolate chip cookies had been invented.
Ruth published her recipe in a Boston newspaper and sales of Nestle's semisweet chocolate spiked. Soon Nestle company started producing Real Semi-Sweet Chocolate Morsels especially for baking these special cookies. Then in 1939, Andrew Nestle decided to print the cookie recipe on the semi-sweet chocolate morsels package cover.
In return for her serendipitous invention and use of semi-sweet chocolate, Mrs. Wakefield was given a lifetime supply of Nestle's chocolate.
Ruth Wakefield's Legacy
Moms and children throughout the world still love the chocolate chip cookie. Mrs. Wakefield's famous Toll House chocolate chip cookie went on to become the most popular cookie in American, a distinction it still holds today.
Dr. Ann Marie Gorczyca is an orthodontist in Antioch, California. She is originally from East Freetown, Massachusetts.