March 31st, 2017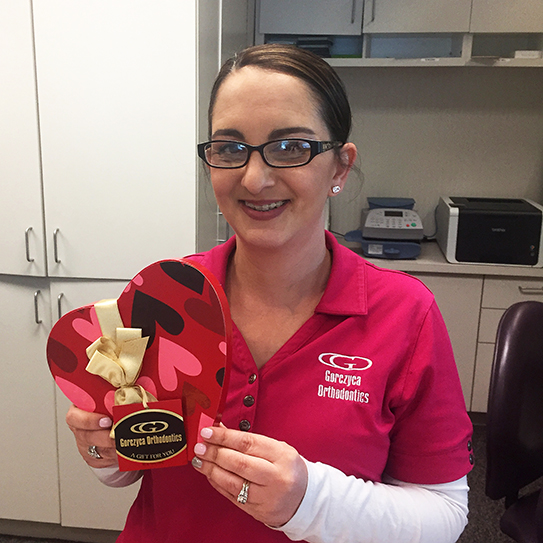 Pam, Patient Coordinator, Front Desk Concierge at Gorczyca Orthodontics
"As patient concierge at the front desk, I am thrilled to welcome you as a new patient to Gorczyca Orthodontics. When you visit our office, I will be the first person you see. You will find a comfortable, positive and energy-filled office culture. We love our patients and it shows."
We're Happy To Welcome You To Our Office!
"When you enter our office, you will be greeted by me and our happy and devoted team members. Our professional portraits are displayed by name on the front wall. Included here is our Mission Statement: 'Caring Professionals Serving Valued Patients.' This is what each of our team members aims to be. Service is what we aim to deliver."
Our Core Values
"We have three core values at Gorczyca Orthodontics: 'Clinical Excellence, Outstanding Customer Service, and a Great Patient Experience.' Every patient has my promise that I will make their orthodontic care as enjoyable and easy as possible. I am happy to be part of every patient experience and devoted to making it great."
"Lastly, as I schedule your next appointment, you have my appreciation for choosing our office for your orthodontics needs. Thank you also for referring your family and friends. Your smile is our inspiration. I look forward to seeing you and your friends and family again soon."
Have Questions? Give Us A Call!
"If you have any questions about Gorczyca Orthodontics, orthodontic treatment, braces, Invisalign, retainers, or Dr. Gorczyca, please call me at (925) 757-9000 to get your questions answered. Visit us at 5201 Deer Valley Road in Antioch right behind Deer Valley High School. Find us at www.clubbraces.com."
"Welcome to Gorczyca Orthodontics. We're happy you're here!"- Pam