May 24th, 2016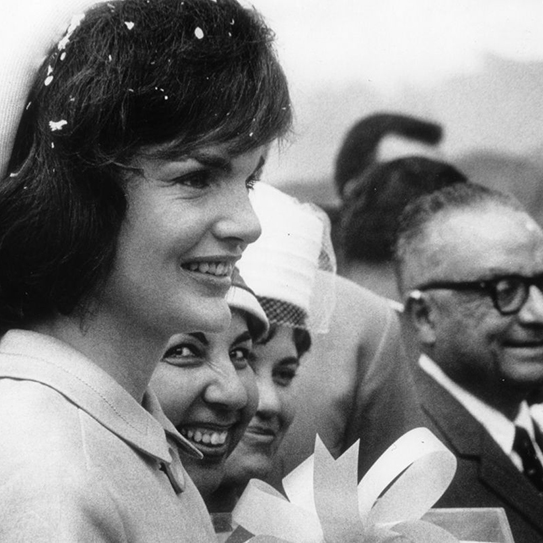 WHAT IF SOMEONE HAD done short-term ortho on Jackie O?
The result would have been hideous. An obvious Class II Division 2 skeletal malocclusion, if a dental care provider had straightened Jackie O's tipped in and crowded upper front teeth without surgery or extractions she would have ended up looking like Bart Simpson.
This is something a real orthodontist would never do. Yet, primary providers, uneducated in orthodontic diagnosis and treatment planning, offer short term orthodontic treatment with braces or Invisalign to skeletal Class II patients without correcting the underlying skeletal problem.
Short-term Orthodontic Treatment May Reveal Other Issues
Straightening of severely tipped and crowded upper front teeth in a Class II Division 2 bite actually unmasks the horizontal jaw discrepancy giving these patients a new appearance of "buck teeth" following short-term ortho.
If left without moving the lower jaw forward or upper tooth extraction, non-correction of the underlying skeletal problem leads to many new problems including:
Poor facial appearance
Lip incompetence, open lips
Lip biting
Speech problems
Front tooth display at rest
Increased risk of front tooth trauma
Lower tooth overeruption
Upper palate biting
Impinging deep bite
Poor bite
Excessive tooth wear
Correcting Short-term Ortho Mistakes Can Be Costly
Once the severe overjet and overbite is worsened by short term ortho, most patients seek orthodontic correction with an orthodontist. Unfortunately, many of these patients have already paid $4,500 to a provider of short term ortho. Now, a real orthodontist must tell the patient that their orthodontic treatment must be redone correctly for an additional cost of $7,000. This is a very unfortunate and uncomfortable situation.
Patients are being hurt physically, emotionally, and financially by not getting initial diagnosis and treatment by an orthodontist. Once this happens, trust in the primary provider of short-term ortho is gone forever.
Don't be one of these unfortunate patients. Do your research and get information about orthodontists and orthodontic treatment.
If You Have Questions, Contact An Orthodontist
If you have questions regarding short-term orthodontic treatment, seek orthodontic care with a real orthodontist, a dentist who has completed an additional two or three years of full time residency and has had intensive training to become an expert in orthodontics. Find an orthodontist by choosing a member of the American Association of Orthodontists at www.mylifemysmile.org.
The Class II Division 2 smile can be spotted by an orthodontist or maxillofacial oral surgeon from the nose bleed section of the audience. It requires a mandibular advancement surgery or upper tooth extraction for a beautiful and ideal result.
Here are some facts regarding mandibular advancement surgery in the year 2016:
Can be completed in as little as 13 months
Wiring shut is not required
Cost usually covered by medical insurance
Over night hospital stay usually not needed
Done within the mouth
No permanent bruising or scaring
Increases the airway
Lessens snoring
Reduces sleep apnea
If you have questions regarding mandibular advancement jaw surgery, contact an oral surgeon, an expert in face, mouth and jaw surgery. You can find an oral surgeon at the American Association of Oral and Maxillofacial Surgeons at www.aaoms.org.
If you have a Class II Division 2 bite like Jackie O, fix it correctly or do nothing at all.
Thanks for the smiles, Jackie O.