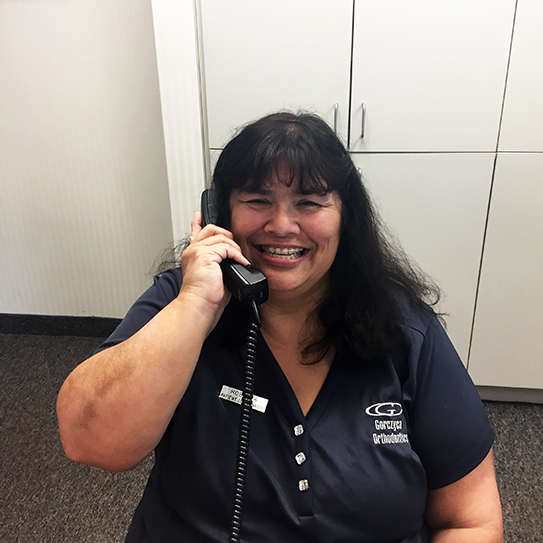 Roberta, Patient Coordinator at Gorczyca Orthodontics
"I am thrilled to be part of the customer service team at Gorczyca Orthodontics. Prior to dentistry, I worked as a customer service representative in the automotive industry for twenty-six years. What I love about working in dentistry is that I personally have the opportunity to see the happiness that a fantastic customer service experience brings to a new patient."
Beautiful Smiles Change Lives!
"The first time I saw young patients getting their braces, and their expression of excitement, joy, and happiness-I almost cried! It is very rewarding to be part of such a positive experience in a young person's life. Beautiful smiles truly change lives. The patient's new smile is my inspiration."
We're Caring Professionals, Serving Valued Patients
"As patient coordinator, my main job is to answer the phone and schedule appointments. I also take care of the patient's needs and ask 'How did we do today?' I schedule all of the patient's future appointments and referrals."
"I live the mission 'Caring professionals serving valued patients.' I am extremely reliable and a rock of trust that my team can always count on to get the job done. Dr. Gorczyca claims she hired me because I wrote on my resume "I am reliable!'"
"It is my pleasure to coordinate appointments and schedule wire removal for the patient's hygiene appointments. I am happy to serve the patient in any way that I can and provide them with the highest quality orthodontic care and personalized customer service."
Let Us Give You The Smile Of Your Dreams
"It would be my pleasure to personally service you and give you the smile of your dreams. Call me at (925) 757-9000 to schedule your complimentary consultation so that we can find the best orthodontic solution for your needs. I hope to see you soon!"
-Roberta
Gorczyca Orthodontics, 5201 Deer Valley Road, Suite 1A, Antioch, CA www.clubbraces.com
Leave a Reply