July 12th, 2017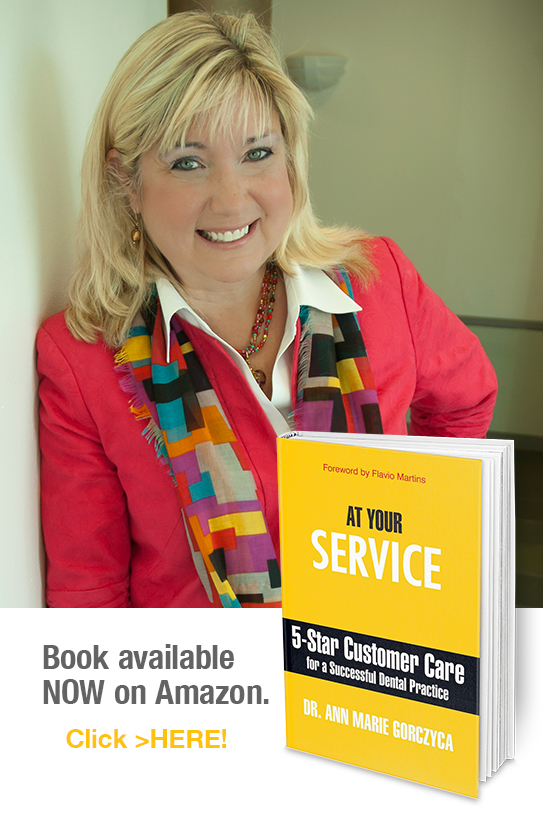 I FIRST LEARNED customer service as a child working as salesgirl on my grandmother's vegetable stand. My grandmother told me to look cute, smile, and make the customers happy. My goal was to make each person feel special by doing a little something extra just for them. So I smiled and delivered an extra cucumber especially for them. My grandmother valued and recognized customer service. And so my education in customer service began.
Exceptional Customer Service Goes A Long Way
As an orthodontic specialist for over twenty-seven years, I've heard some patients talk about their dentist with love, while others say they would never return to a dental office ever again. Yet there are dental patients who will drive hundreds of miles for outstanding customer service from a favorite dental professional.
Individual service and attention breeds dental patient loyalty and makes for a five-star patient experience. Outstanding dental teams know how to deliver at every touch point of the patient's office journey. Their actions attend to every detail of patient comfort and feeling of fulfillment. By doing so, they make the patient feel they are getting high value for their money not only in terms of their dental care, but also with respect to the overall patient experience.
Customer service leaders work well together, delighting patients while producing dental practice success. To some dental professionals, "soft skills" come naturally. For others, customer service tips need to be reviewed for best practices in order to acquire emotional intelligence and service acumen. To those who need to work on their customer service skills, the information in this book will help.
Recognizing Good Service Breeds More Good Service
When I was a student at the Harvard School of Dental Medicine, I had the opportunity to study at the Harvard School of Public Health in the Department of Health Management and Policy. There, I attended my first management lectures and started to understand the importance and broad-reaching effects of customer service within the healthcare service industry, including dentistry.
When I started teaching at the University of the Pacific, Arthur A. Dugoni School of Dentistry, we added a customer service lecture to the business management curriculum. We reviewed the impact of such terms as "my pleasure" versus "no problem." Aiming to remain relevant and memorable, we gave a Customer Service Award to the most service-oriented orthodontic resident. We also give an annual Customer Service Award at Gorczyca Orthodontics. You get what you reward. This is the highest award achievable in the dental office.
Social Media Makes Receiving Customer Feedback Easy!
In the past, dental offices often used questionnaires to obtain patient service metrics. In the age of social media, customer online reviews often take away this administrative task. Social media sites such as Yelp, Facebook, and Google give dentists immediate feedback regarding their service each day. Once service information is collected, compiled, and communicated, corrections can be made in management systems to improve customer service. This requires time, attention, and action by a devoted team working together to produce immediate customer service results.
Dentistry is, after all, a service industry. The definition of a "profession" is that we put others above ourselves. First, last, and always, we are here to serve our patients. This is why outstanding customer service is so central to a successful dental practice.
Five-star customer service is something each of us can deliver. Outstanding customer service is the end that we all wish to achieve, day after day, year after year. This book describes the means to this end.
To My Grandmother, Babcie, delighter of customers. Thank you for everything you taught me.
About the Author
Dr. Ann Marie Gorczyca speaks on practice management topics including marketing, teamwork, treatment coordination, customer service, management systems and human resource management. She was a speaker at the 2011, 2012, 2014, 2015, 2016, and 2017 American Association of Orthodontists (AAO) Annual Sessions. She has received teaching awards from UCSF and University of the Pacific Dental Schools. She is author of the books, "It All Starts with Marketing-201 Marketing Tips for Growing a Dental Practice" and "Beyond the Morning Huddle-HR Management for a Successful Dental Practice" She is an orthodontist at Gorczyca Orthodontics in Antioch, CA. This is her third book.