October 30th, 2018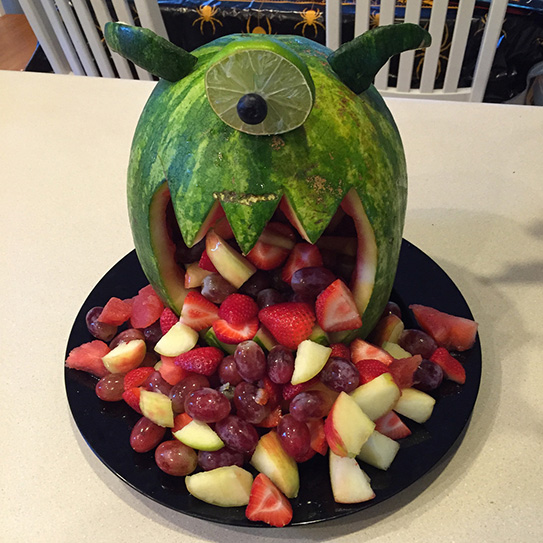 IT'S THAT TIME AGAIN; the time of black cats and carved pumpkins, the time of ghouls and goblins, the time of costumes, parades, and parties. It's time for all of those things, and it's also a great time for healthy Halloween snacks!
It's No Trick! Treat Yourself To These Healthy Snacks
Here are a few Healthy Halloween snack ideas that are also good for oral health and braces.
Finger sandwiches. Freeze your bread and then cut it with a cookie cutter into Halloween figures. Use soft and healthy spreads like peanut butter and jelly, hummus, or guacamole. Guacamole makes a great green Frankenstein on an open faced sandwich.
Cheese cut-outs. Those Halloween cookie cutters work great on cheese slices too!
Banana ghosts. Banana ghosts on a stick are so easy to make. Simply peel a banana, cut it in half, and add chocolate chips for a mouth and eyes!
Tangerine pumpkins. Clementine tangerines are so easy to peel. Then add a snap pea pumpkin stem for a bit of color.
Watermelon monster. Why carve a pumpkin when you can carve a watermelon? Your watermelon monster will make a great centerpiece for a spooky fruit platter.
Apple slice mouths. Tiny marshmallows make great teeth between apple lips. Use peanut butter to hold the marshmallow teeth in place.
Strawberry faces. Dip strawberries in either yogurt or white chocolate to make funny faces. Chocolate chips, sprinkles, and grape bits can be used to accessorize.
Frozen pops. Why eat candy corn when you can have a giant frozen pop with white yogurt, orange juice, and pineapple juice. Yum!
Scary deviled eggs. Hummus can be used to make a brown center for spiders. Black olives can be used to make spider legs. Or you can make egg eyeballs with an olive center. Add a little red pepper for a scary bloodshot look.
Have A Healthy Halloween!
Halloween is a time of creativity and fun. So get creative and bring on the healthy treats!
It's time for oral health and a great time for wishing you a Happy Halloween!
Gorczyca Orthodontics, 5201 Deer Valley Road, Suite 1A, Antioch, California 925-757-9000.
The content on this blog is not intended to be a substitute for professional medical advice, diagnosis, or treatment. Always seek the advice of qualified health providers with questions you may have regarding medical conditions.